In our Logica Research Future of Money Study we look at the consumer mindset around money in four key areas: how we work, spend, save, and invest. In 2018 we've examined the side hustle and how it impacts the way Americans make money.

Americans are Working Hard
We found that 40% of U.S. adults have a side hustle and that almost half of American workers who are working full time have a side hustle. Check out how the side hustle impacts Americans' financial lives.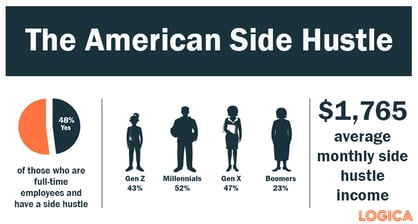 With so many American workers having multiple streams of income due to their side hustles, they need tools to help them manage income and expenses and achieve their financial goals.

Let us help you gain the insights you need to deliver great products and services to these gig economy workers.
Engage in the conversation: engage@logicaresearch.com
Wishing you happy holidays and a great 2019!