Watch out. The oldest members of a new generation, the next generation after Millennials, are becoming adults. This generation is defined as the cohort after Millennials and born in the mid to late 1990s. By some common definitions, they started marching into adulthood this year.
This generation is still being defined—not only in their age, but also their name, values, opinions and defining characteristics. Popular culture refers to this generation as "Gen Z," "iGen" or "Centennials," and many other names. In research we conducted with sample from Lucid and advanced gamified question programming from Catalyst MR, we found that sixteen to eighteen year-olds do not yet have a strong opinion about what they want to be called. Or, we just haven't come up with the winning name yet. "Digitals" is the most popular name for this generation among older generations (GenX 24%; Boomers 19%), but a quarter of the newest generation (26%) has no opinion or didn't go for any of the names presented to them.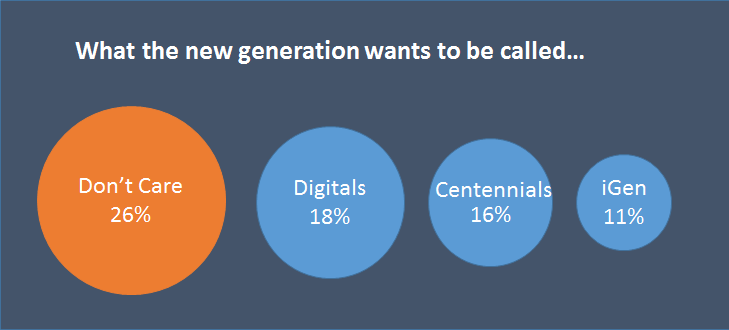 In our focus on engagement around money, we wanted to know what this new generation and the other generations think about the future of cash. The assumption is that this new generation, who was practically born with digital technology in its hands, would have a digital perspective on money. In fact, when it comes to imagining when our society might become cashless, the new generation looks more like Boomers, and is more likely to see it happening 20 or more years from now, whereas Millennials and GenX imagine this occurring in the next 20 years. Do they know something we don't know, or are they undereducated on money?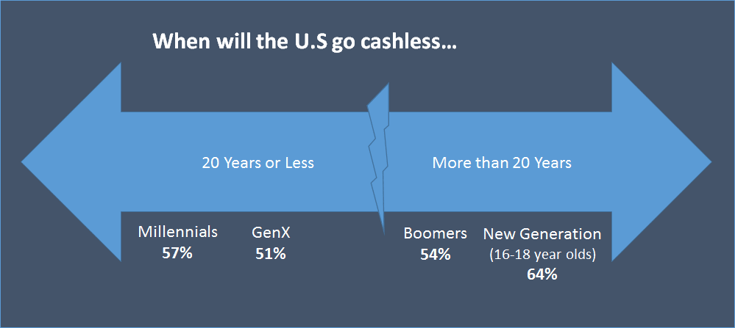 All this raises questions on how this generation will think about, make, spend, and save money and what they will think about your brand.
Watch out and take notice. A new generation is coming.
If you have upcoming research projects and think including this generation would be valuable, let us know at engage@logicaresearch.com